In case you wonder if there are any Indian curries that can be vegan and taste authentic at the same time, you are reading the perfect article. There are actually many such curries, but here, I am sharing the five which are easy to cook, and need only a few ingredients. I will also link excellent YouTube videos featuring vegan recipes for all the five curries.
These five curries taste best when cooked using a light, odorless vegetable oil, and never need any dairy-based fat. I am saying this so that you do not get any feeling that because of being vegan, these curries may not be the real thing. These are the real thing.
Let us start with the easiest curry and then move on to the others which need a little more effort.
Jeera Aloo (Cumin Flavored Fried Potatoes)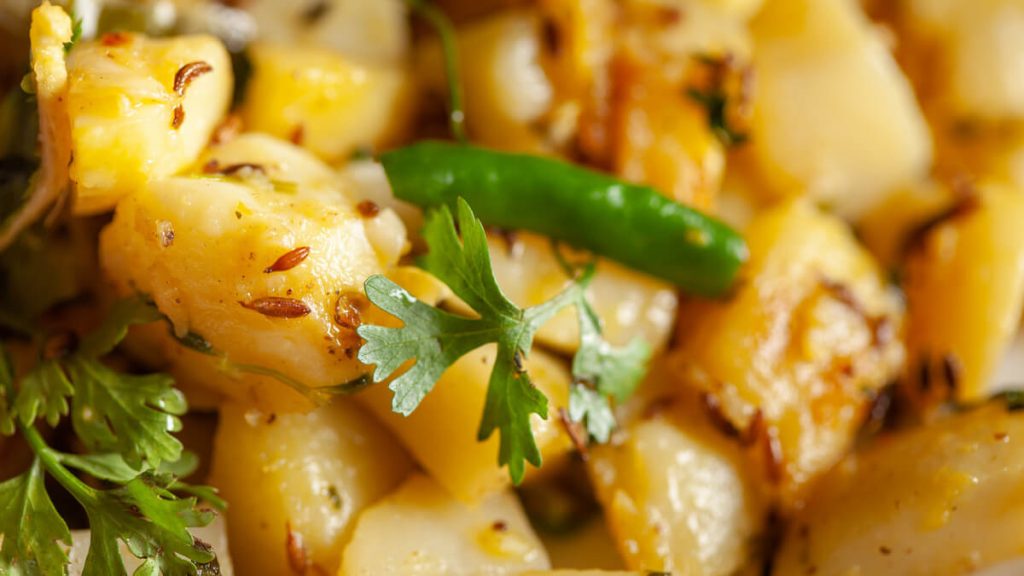 If you have never tried cooking an Indian curry, this is the one you should start with. Jeera Aloo is not only the easiest Indian curry, it makes for a delicious and wholesome meal when served with plain tandoori or tawa roti (flat Indian bread). Jeera Aloo is so simple that it is rather impossible to get it wrong. Here's how you cook Jeera Aloo:
Boil 300 to 400 gm potatoes, cut into small, equal sized pieces, and set aside.
Heat vegetable oil in a pan, and add a teaspoon of cumin seeds. Stir until the seeds crackle.
Reduce flame, add two chopped green chilies, turmeric powder, and any other spice you like. Sauté for a minute, and then drop the potatoes into the pan.
Sprinkle some salt (to taste) on the potatoes, increase the flame to medium, and stir-fry the potatoes for a couple of minutes. To finish, add half a teaspoon of lemon juice, chopped coriander leaves, and fry the curry for another minute. Your easiest Indian curry is ready to enjoy.
YouTube Recipe Video: https://www.youtube.com/watch?v=TZI2lUvhwro (opens in new browser tab)
Aloo Gobhi (Cauliflower and Potato Curry)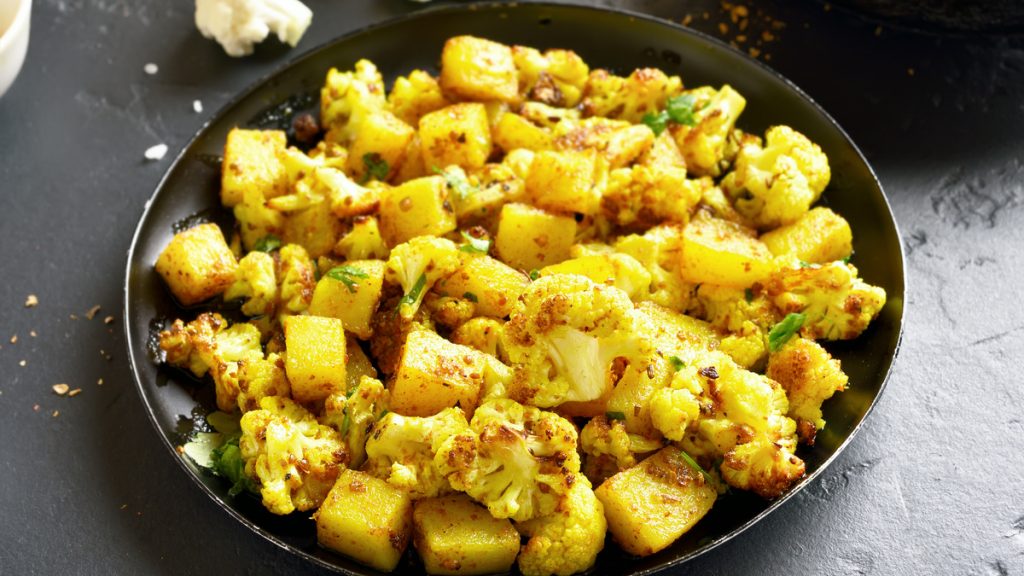 Depending on how you cook it, Aloo Gobhi (cauliflower and potato curry) can be easier or slightly difficult compared to Jeera Aloo. Usually, in India, Aloo Gobhi is cooked in a pan, and the standard curry ingredients – onions, ginger, garlic, and tomato – are used in addition to some essential spices and salt. But here, for simplicity, I will share a recipe for baked Aloo Gobhi. And this one tastes nice too.
The video I link below will guide you, but in short, the recipe is like this.
Cut the cauliflower and potatoes, and keep aside.
Prepare a spice mix using cumin powder, red chili powder, garam masala, turmeric powder, salt, oil, and a little water. Mix everything and use it to evenly coat the cauliflower and potato pieces.
Spread the veggies in a wide pan, and bake on high until tender. Enjoy with Indian bread.
YouTube Video For Baked Aloo Gobhi: https://www.youtube.com/watch?v=0nK4WGQop0Q (opens in new browser tab)
If you want to cook Aloo Gobhi in the traditional way, you will find several recipe videos on YouTube.
Dal Palak (Lentils and Spinach Curry)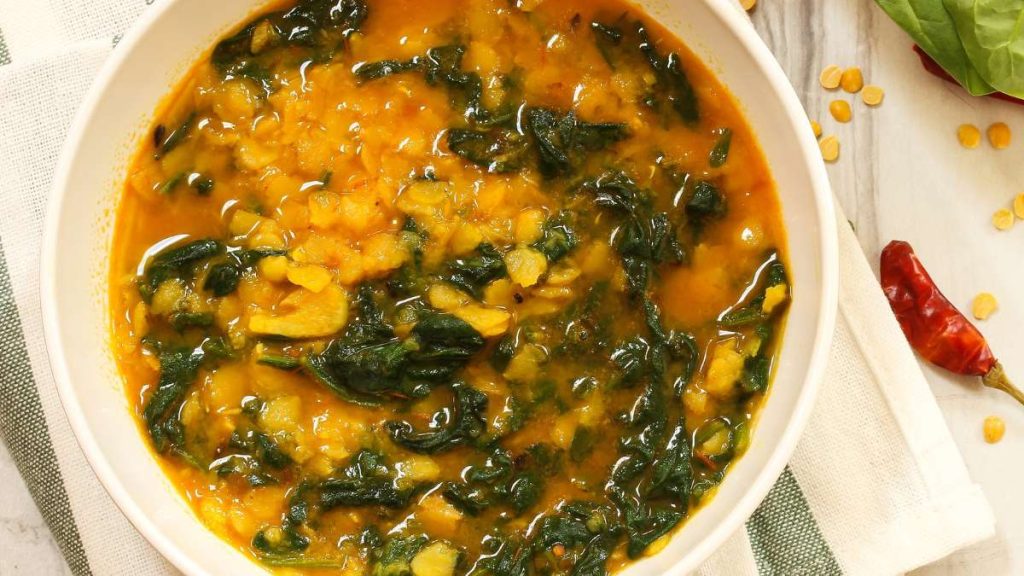 Lentils and spinach curry, as the name suggests, is cooked using yellow or red lentils, and chopped fresh spinach. The beauty of this curry is that it will taste superb regardless of the quantity of spices you use. I mean, it can be mild or really hot, depending on your preference.
The recipe is like this:
Cook lentils until soft.
Temper using spiced and seasoned hot oil.
Add chopped spinach and cook for a few minutes.
Dal Palak is ready to enjoy with steamed rice or Indian flat bread.
YouTube Recipe Video: https://www.youtube.com/watch?v=H2xI0m-st0U (opens in new browser tab)
Chana Masala (Chickpea Curry)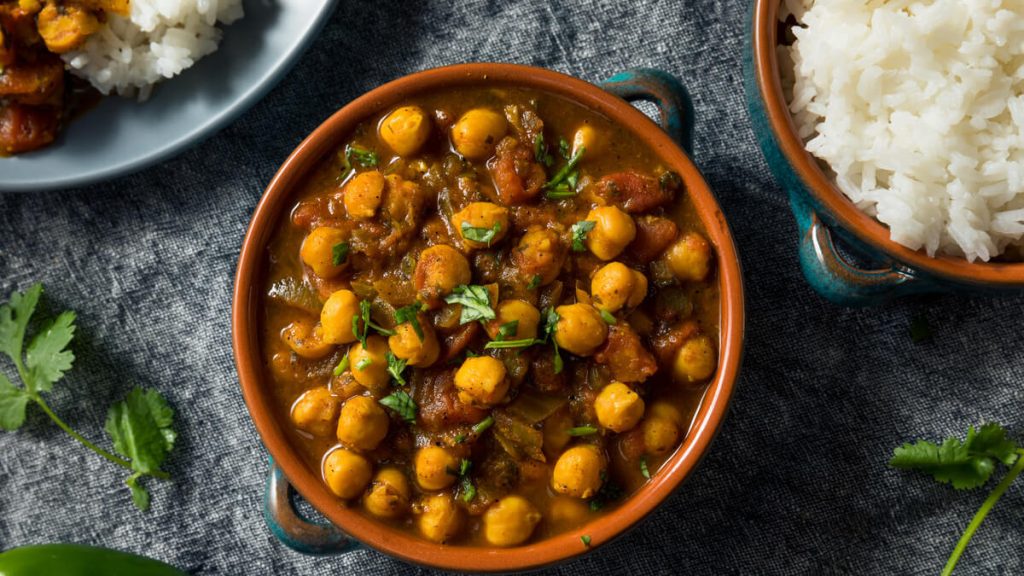 Chana Masala (Spicy Chickpea Curry) is one of the most well-known North Indian curries, both in India and in other countries. The best thing about Chana Masala is its versatility. It can be enjoyed not only with rice or roti, but also with deep-fried flat breads, such as poori. There is a popular set meal – Chana Bhatura – in which a fermented and deep-fried flat bread, bhatura, is served along with a generous helping of Chana Masala. Chana Masala can also accompany fried snacks such as Samosa, and Aloo Tikki, and it makes everything look healthier.
Coming to the recipe, I can write here a simple and easy to prepare recipe, but I have found something better. Avant Garde Vegan, a great YouTube channel on vegan food, has a Chana Masala recipe that uses coconut milk. I think that gives the dish a wider appeal while still keeping it simple. So, please see the video, and try the recipe: https://www.youtube.com/watch?v=y8ymHSdO2HQ (opens in new browser tab)
Baingan Bharta (Mashed & Spiced Roasted Eggplant)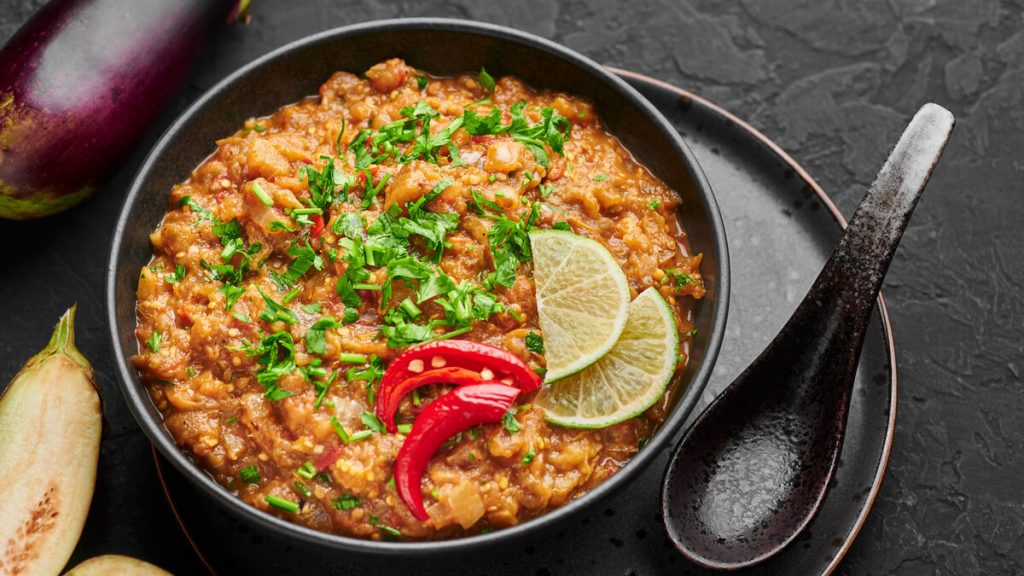 Baingan Bharta has a special place in North Indian cuisine. The smoky hot flavor of this dish, when cooked properly, and served with fresh plain tandoori roti, leaves a lasting memory in the mind of anyone fortunate enough to taste it. Trust me, that meal is divine.
The other reason why I love Baingan Bharta is that it is always vegan. Even those Indian chefs, who are notorious for using obscene amounts of dairy-based fat in their cooking, will tell you that Baingan Bharta has to be cooked in vegetable oil. And this can be a test. If you see someone claiming to be a chef and using butter or ghee in Baingan Bharta, that person is a fraud.
The recipe is simple, but it takes some work, some patience, and some practice. It starts with the roasting of a large-sized eggplant on an open flame. You will get the idea when you see the video. The charred skin is carefully removed from the eggplant, and the pulp is roughly mashed.
A spicy Indian masala is prepared by frying onions, ginger, garlic, tomato, and a number of spices including red chili powder. The roasted and mashed eggplant is dropped into the masala, mixed gently, and cooked for a few minutes. The curry is garnished with fresh coriander leaves.
It tastes best with freshly baked tandoori flat bread, and does not go well with rice.
If all this sounds like too much work, you are not wrong. But see, the recipe is not difficult once you learn to roast and clean an eggplant. The rest is easy.
If you want to experience North Indian cooking at its best, you have to taste Baingan Bharta. Here is the recipe video I recommend: https://www.youtube.com/watch?v=fVDU8w4xKfU (opens in new browser tab)
I trust you will like some of these recipes, and hopefully will try them at home. Please let me know how it went, using the comment form below. Happy cooking!