If you have tasted and loved Indian food, you have probably thought of cooking some yourself. When you finally decide to go ahead, I guess you would first think of cooking an Indian curry. And yes, you should.
A most basic Indian meal consists of a curry served along with plain steamed rice or flatbread made from wheat flour, and this is the everyday meal of an average Indian family.
Indian curry is a versatile concept because you can make a curry with lentils, beans, vegetables, or some other stuff such as besan (chickpea flour) or button mushrooms, etc.
The cooking of most variants of Indian curry requires a standard set of ingredients – herbs, spices, fresh tomatoes, and common salt. I am going to list the essential ones here, other than cooking oil and salt. You can use your everyday oil and salt as required.
A Note Of Caution About Dairy-Based Ingredients
You may read it, or someone may try telling you that the best Indian curry can be made using ghee (clarified butter) instead of vegetable oil. Please do not believe that. In India, dairy-based food products are used excessively and many times unnecessarily. Because dairy products are cheap and readily available, using those ingredients has become a habit for many people.
This is also due to a belief among the people that dairy-based foods are good for health. The fact is that extra virgin olive oil can be used to make any Indian curry and is a very healthy choice for a cooking medium.
You may see some Indian food recipes that suggest the use of dairy yogurt (curd). It is not necessary to used curd in an Indian curry. It can be totally avoided.
Now let us see the essential ingredients for Indian cooking:
1. Cumin Seeds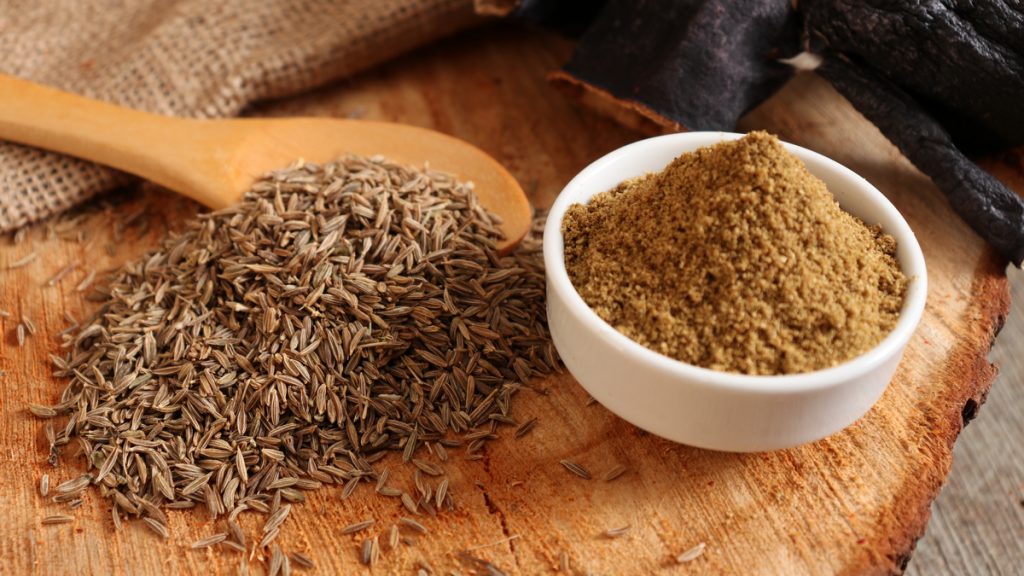 The cooking of almost any Indian curry starts with the crackling of cumin seeds in hot oil. Cumin adds a distinct aroma and an earthy flavor to the curry. Just be careful not to use too much of it. You will be adding many more flavors to the curry, and cumin seeds are just the beginning.
The best example of an Indian curry where cumin seeds are used as a primary flavor is Aloo Jeera (potatoes cooked with cumin seeds). You may like to watch this recipe video on how to cook Aloo Jeera.
2-3-4. Red Onions – Ginger – Garlic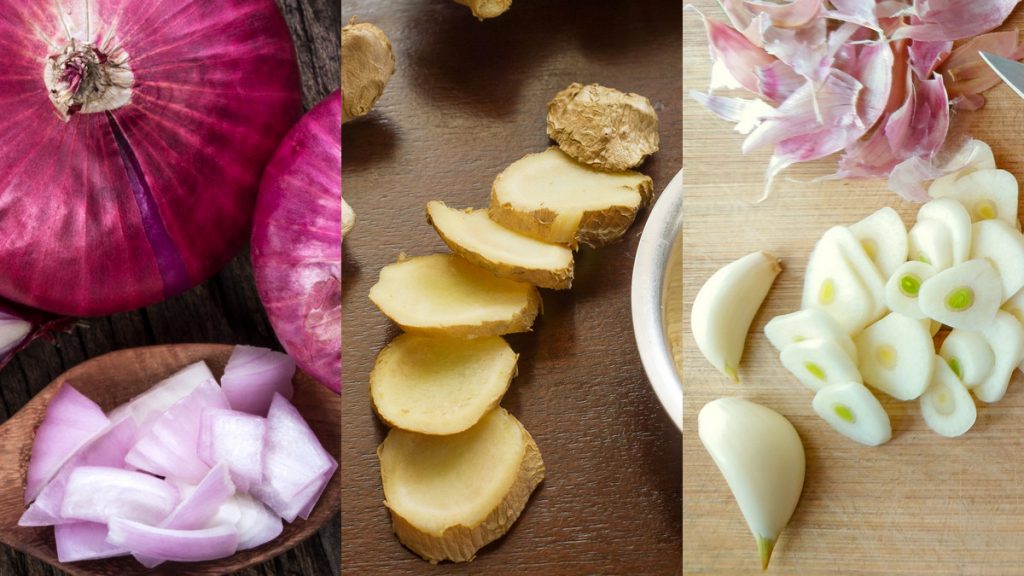 Finely chopped red onions, ginger, and garlic are the essential base ingredients for an Indian curry. These three can also be ground to a paste if the recipe so requires. After the cumin seeds have begun to crackle, chopped onion-ginger-garlic are added and sautéed at low heat until the onions turn translucent or golden brown, depending on the recipe.
5-6-7-8. Red Chili Powder, Kitchen King Masala, Coriander Powder, And Cumin Powder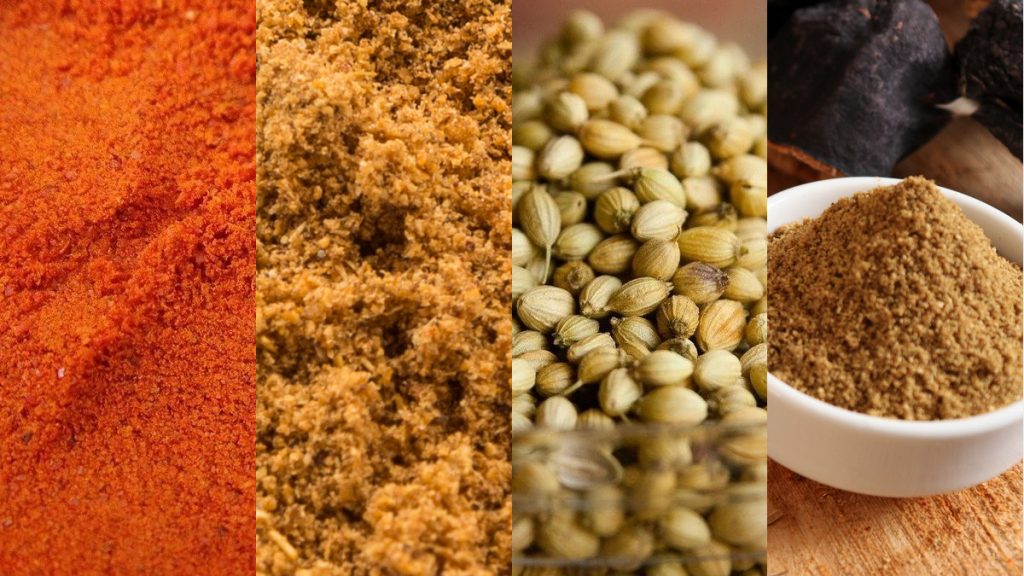 Now is the time to add red chili powder, kitchen king masala (or garam masala), coriander powder, and cumin powder. Before doing so, either turn off the flame or reduce it to the lowest. These spices have to be lightly fried at low temperatures.
You may read all about kitchen king masala here. The other option is to use garam masala, which in my opinion should be avoided. The traditional North Indian garam masala is a different mix of spices and is used in cooking differently. Unfortunately, the commercial producers of garam masala have changed the spice mix, but they still call it garam masala. You may like to read about traditional garam masala and how it is to be used.
9-10. Tomatoes And Chopped Green Chilies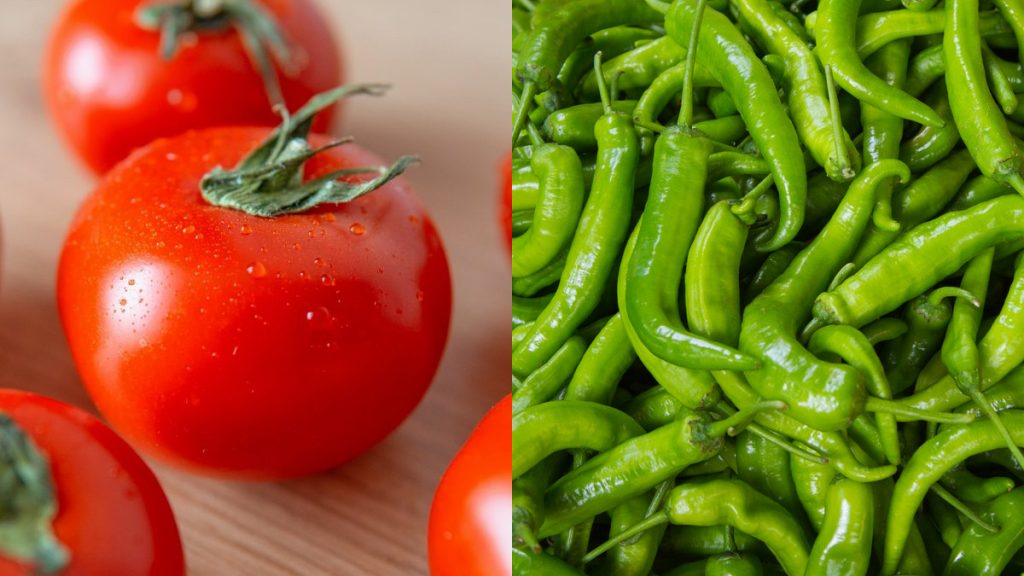 Now turn the flame back on and add peeled & finely chopped tomatoes and chopped green chilies. Tomatoes need to be cooked until the oil starts separating.
If the recipe permits, use homemade tomato purée instead of chopped tomatoes. Your curry will be healthier.
11. Turmeric Powder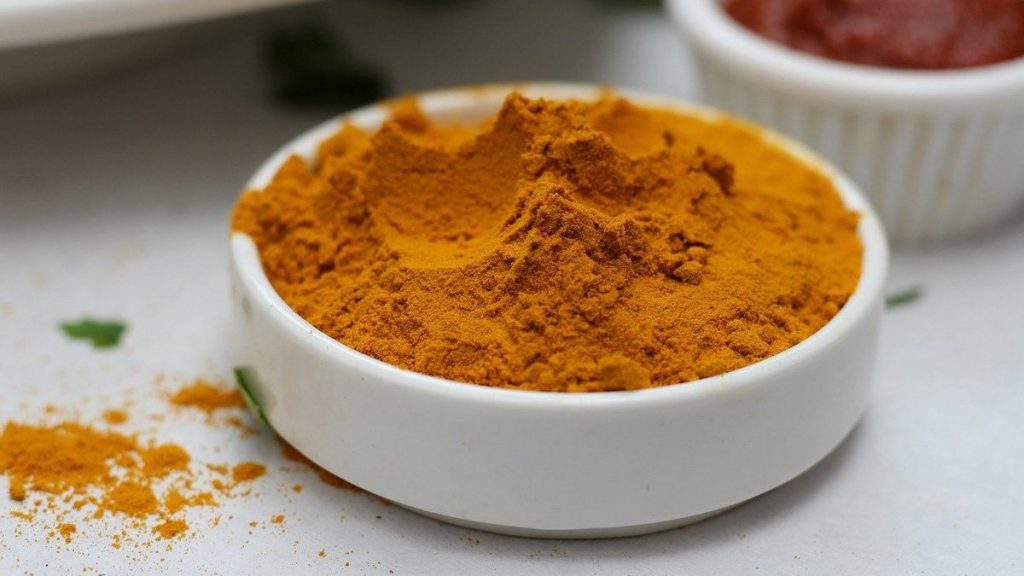 After the tomatoes are done, add turmeric powder dissolved in a little water. This will add a yellow-orange color to the curry. Cook everything for another minute or two. When the turmeric water has disappeared, you are ready for the next step.
If you are making a dry curry, you can proceed with adding vegetables or mushrooms, etc.
Otherwise, for a curry with gravy, you need to add water and boil everything. Add salt to season.
12. Garnish With Fresh Coriander Leaves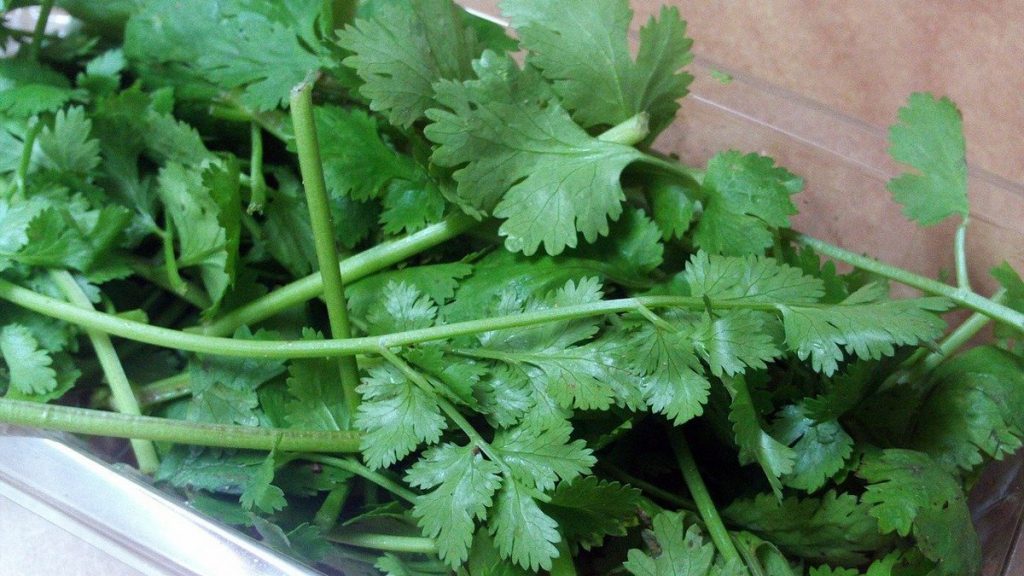 When the curry is ready, turn off the flame and garnish with chopped coriander leaves.
Watch Another Indian Curry Cooking Video
You may like to watch this video on how to cook Indian Tofu Curry in Instant Pot.