I recently bought a pack of coconut milk powder. And when I was buying it, I was certain that it was a vegan product because coconut milk is supposed to be vegan. But little did I know!
My coconut milk powder is not vegan. It contains a derivative called Sodium Caseinate which is a milk protein.
(Casein is added to coconut milk powder to impart a stable and milk-like consistency when it is dissolved in water.)
What Does Coconut Milk Powder Contain?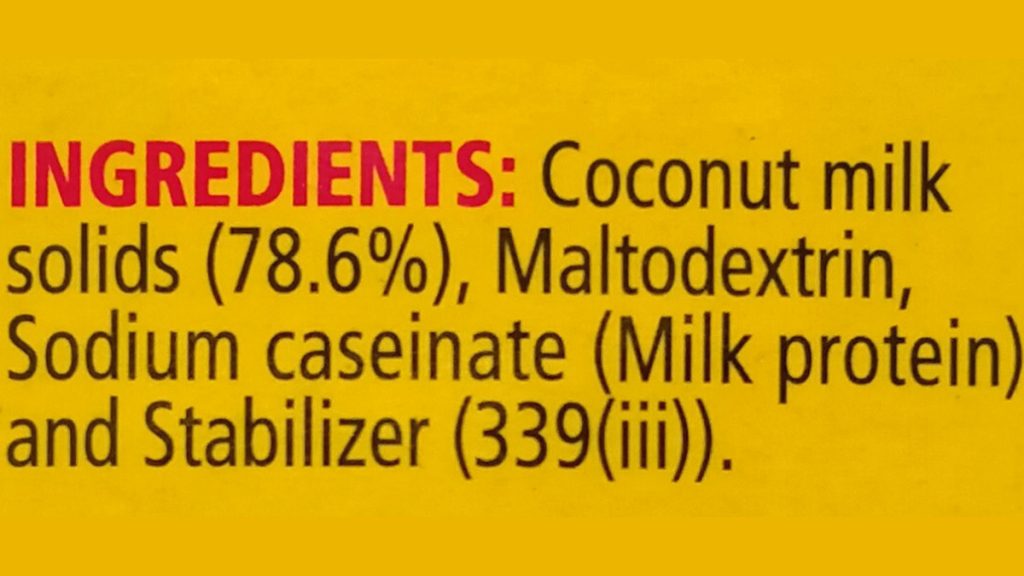 As demonstrated by the image above, Nestlé's (Maggi brand) coconut milk powder contains 78.6% coconut milk solids. The rest is Sodium Caseinate, Maltodextrin, and a stabilizer of some kind.
(Maltodextrin is a highly processed white powder obtained from plant-based starch.)
It is not mentioned how much Casein this coconut milk powder contains, but it could be as high as 15% or even more. I can only guess.
This is bad news for me. I do not use so much coconut milk in my cooking, and therefore buying it in powder form worked better for me. I could use as little as I needed and store the rest. Well, I can't do it anymore.
Packaged Coconut Milk May Still Be Vegan
It occurs to me that Sodium Caseinate may be an issue only with coconut milk powder. The liquid coconut milk that comes in tetra or tin packs may not contain this ingredient. However, I would still like to read the label carefully before I buy any coconut milk or powder in the future.